The BMW XM is already a super-SUV that impresses with its power and luxury. However, BMW has taken it to the next level with the release of the Red Label, their first-ever bespoke SUV. According to BMW, the Red Label is the "most powerful BMW M model ever made," thanks to a hybrid drivetrain that features an improved V-8 engine and an electric motor.
Power and Efficiency
The Red Label is equipped with a 4.4-liter, twin-turbo V-8 engine that outputs 577 horsepower and 533 lb-ft of torque. This is an increase of 94 horsepower and 74 lb-ft of torque from the standard XM. The engine is paired with a 194 horsepower, 206 lb-ft electric motor that brings the total power output to an impressive 738 horsepower and 738 lb-ft of torque. This allows the Red Label to go from 0-60 mph in just 3.7 seconds.
The Red Label's hybrid drivetrain also allows it to drive 30 miles on the electric motor alone, with a battery pack that has a usable capacity of 19.2 kWh. The battery can be recharged from 0-100 percent in just 3.25 hours using a 7.4-kW AC charger, with the help of its battery preconditioning system that heats up or cools down the battery for the most efficient charging session. The charging cable is also included in a weekender bag that's secured to the cargo area with an M tricolor carabiner and belt.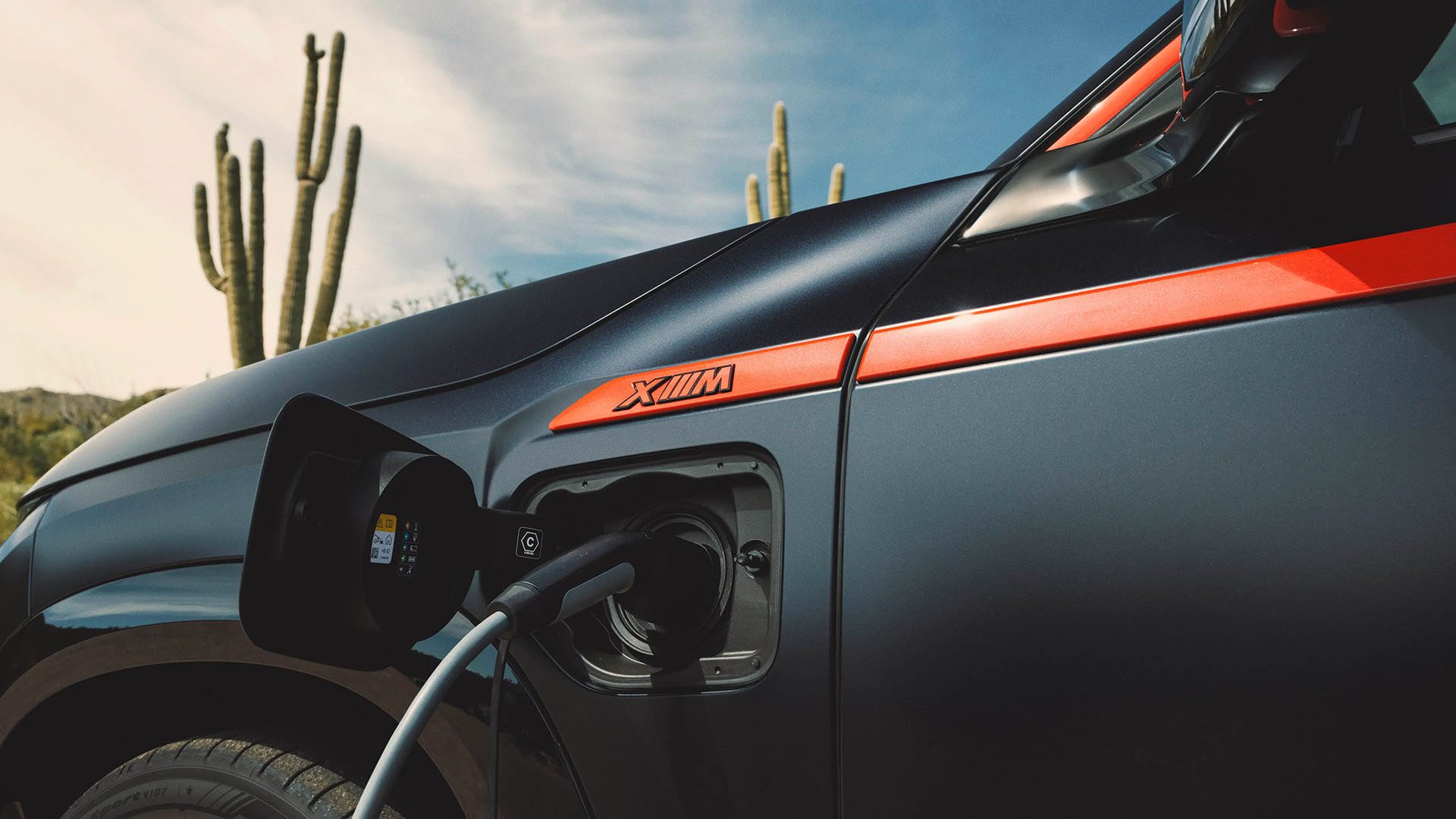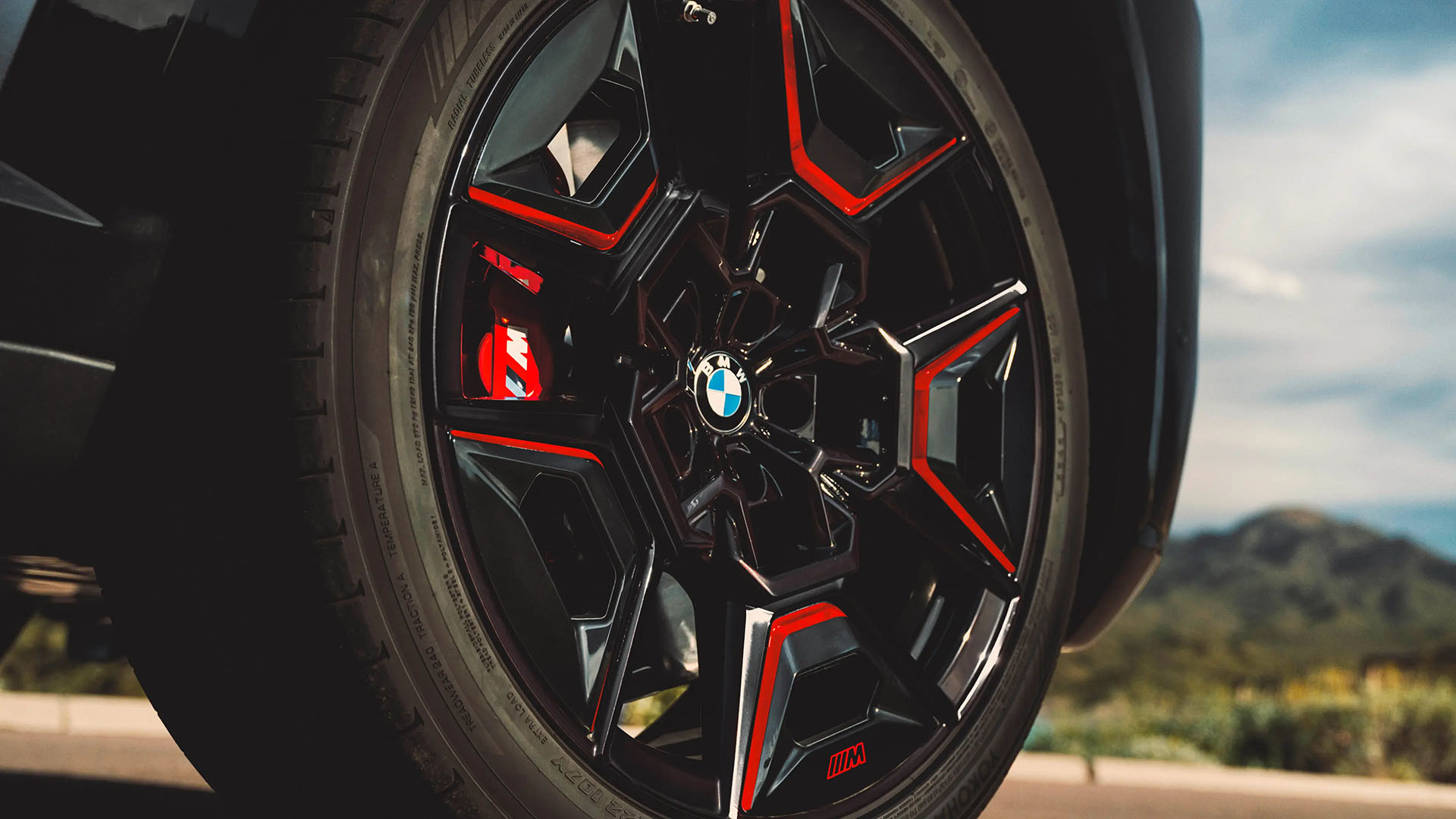 Handling and Design
The Red Label features adaptive M Suspension Professional with electronically controlled dampers, active roll stabilization through its Active Roll Comfort, and Integral Active Steering, which allows for precise control and easier parking maneuvers. The M Sport braking system brings six-piston fixed front calipers and single-piston floating calipers to the rear. The Red Label also features an eye-catching design, with a body accent band that can come in Toronto Red, recolored red model badges and wheel caps, and high-gloss black surrounds on the grille and rear diffuser.
Interior Features
Inside, the Red Label features a mix of black and red motifs, with a distinctive 3D headliner and pillar trims finished in black. The diamond-shaped upper sections of the backrests, integrated headrests, and outer rear seats are covered in red fabric. Red contrast stitching and accent trim are found throughout the cabin. Other Red Label exclusives include a red "XM" badge below the BMW Curved Display and an interior trim strip done in satin carbon fiber with red and blue accent threads. The Red Label also features the Bowers and Wilkins Diamond Surround System and BMW Live Cockpit Professional, which works with Apple CarPlay, Android Auto, and 5G mobile technology.
Conclusion
The BMW XM Red Label takes an already impressive super-SUV to the next level. With its hybrid drivetrain, handling improvements, and eye-catching design, it's a vehicle that stands out in a crowd. The Red Label offers a luxurious and sporty driving experience that's unmatched by any other BMW M model.